Polaris RZR Ultimate Gun Rack/Grab Handle/Lug Wrench by Razorback Offroad
All Razorback Offroad Products have a lead time of 6-8 weeks

Free Shipping with in the lower 48 states
Description
SKU: RBO1000
Designed as a Direct Polaris ® OEM Replacement part
Fits Polaris RZR's from 2102 to current with

 

square mounting shaft.
Gun Mounts can be adjusted up down and side to side.
Built in Lug Wrench is made from solid billet steel with ½" drive. (Socket Not Included)
Powder Coated Black finish
Pro Taper® grips
Holds most Rifles and Shot Guns
Includes Handle and (2) Gun Mounts
The Ultimate RZR Gun Rack has arrived! Most of us here at Razorback are avid hunters and we felt there was a better way to hold our guns in our RZR.
We also wanted a nicer looking RZR Passenger Grab handle the had comfortable grips for our passenger. The result is our RBO Ultimate Gun Rack. This mount will fit all Polaris RZR's built after 2012 that use the square mounting shaft.
We designed our Ultimate Gun Rack with Lots of adjustability so you can change the gun mount locations to fit your specific rifle or shotgun. We also incorporated Pro Taper® Hand Grips, we also machined in a ½" drive socket adapter into the end of the mounting shaft. This allows you to use our Ultimate Gun Rack ™ as a Lug Wrench for removing your Side x Side lug nuts (Socket Not Included). We build this RZR Ultimate Gun Rack ™ right here in Idaho at our facility so you can be assured it is built with pride. This product comes with our Razorback 100% Money Back Guarantee. To see our full line of UTV products for your UTV, ATV or Side x Side please check our products pages.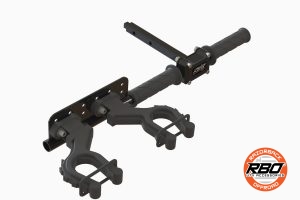 | | | |
| --- | --- | --- |
| 2012 - 2020 | Polaris | RZR® 570 |
| 2014 - 2019 | Polaris | RZR® 570 EPS |
| 2020 | Polaris | RZR® 570 Premium |
| 2015 - 2016 | Polaris | RZR® XP 570 EPS Trail |
| 2017 | Polaris | RZR® S 570 EPS |
| 2020 - Current | Polaris | RZR® Trail 570 |
| 2021 | Polaris | RZR® Trail 570 Premium |
| 2012 - 2014 | Polaris | RZR® 800 |
| 2012 - 2014 | Polaris | RZR® 800 EPS |
| 2012 | Polaris | RZR® XP 4 900 |
| 2012 - 2013 | Polaris | RZR® S 800 |
| 2014 | Polaris | RZR® S 800 EPS |
| 2014 | Polaris | RZR® 800 XC |
| 2012 - 2014 | Polaris | RZR® 4 800 |
| 2014 - 2020 | Polaris | RZR® 900 |
| 2021 | Polaris | RZR 900 Premium |
| 2020 | Polaris | RZR® 900 FOX Edition |
| 2020 | Polaris | RZR® 900 Premium |
| 2015 - 2019 | Polaris | RZR® 900 EPS |
| 2016 | Polaris | RZR® 900 EPS FOX Edition |
| 2015 | Polaris | RZR® 900 XC Edition |
| 2015 - 2017 | Polaris | RZR® XP 900 |
| 2015 - 2016 | Polaris | RZR® XP 900 Trail |
| 2015 - 2016 | Polaris | RZR® XP 900 EPS Trail |
| 2012 - 2013 | Polaris | RZR® XP 900 EPS |
| 2016 - 2017 | Polaris | RZR® 900 EPS XC Edition |
| 2020 - Current | Polaris | RZR® Trail 900 |
| 2015 - 2020 | Polaris | RZR® S 900 |
| 2020 - Current | Polaris | RZR® Trail S 900 |
| 2020 - Current | Polaris | RZR® S 900 Premium |
| 2015 - 2019 | Polaris | RZR® S 900 EPS |
| 2018 | Polaris | RZR® S4 900 EPS |
| 2016 - 2017 | Polaris | RZR® 4 900 EPS |
| 2013 | Polaris | RZR® XP 900 Jagged X |
| 2014 - 2020 | Polaris | RZR® XP 1000 |
| 2020 | Polaris | RZR® XP 1000 LE |
| 2021 | Polaris | RZR® XP 1000 Sport |
| 2020 - Current | Polaris | RZR® XP 1000 Premium |
| 2019 | Polaris | RZR® XP 1000 Dynamix Edition |
| 2019 - Current | Polaris | RZR® XP 1000 High Lifter Edition |
| 2019 | Polaris | RZR® XP 1000 Ride Command |
| 2018 - Current | Polaris | RZR® XP 1000 Trails & Rocks Edition |
| 2014 - 2018 | Polaris | RZR® XP 1000 EPS |
| 2019 - 2020 | Polaris | RZR® S 1000 |
| 2020 - Current | Polaris | RZR® Trail S 1000 |
| 2016 - 2018 | Polaris | RZR® S 1000 EPS |
| 2019 - 2020 | Polaris | RZR® S 4 1000 |
| 2018 - 2020 | Polaris | RZR® XP 4 1000 |
| 2021 | Polaris | RZR® XP 4 1000 Sport |
| 2020 - Current | Polaris | RZR® XP 4 1000 Premium |
| 2019 | Polaris | RZR® XP 4 1000 Dynamix Edition |
| 2019 - Current | Polaris | RZR® XP 4 1000 High Lifter Edition |
| 2019 | Polaris | RZR® XP 4 1000 Ride Command |
| 2014 - 2017 | Polaris | RZR® XP 4 1000 EPS |
| 2016 - 2017 | Polaris | RZR® XP 4 1000 EPS High Lifter Edition |
| 2018 - 2020 | Polaris | RZR® XP 4 Turbo |
| 2019 | Polaris | RZR® XP 4 Turbo LE |
| 2019 | Polaris | RZR® XP 4 Turbo Dynamix |
| 2016 - 2017 | Polaris | RZR® XP 4 Turbo EPS |
| 2018 | Polaris | RZR® XP 4 Turbo EPS Dynamix Edition |
| 2018 | Polaris | RZR® XP 4 Turbo EPS Fox Edition |
| 2019 - Current | Polaris | RZR® XP Turbo |
| 2019 | Polaris | RZR® XP Turbo LE |
| 2019 | Polaris | RZR® XP Turbo Dynamix |
| 2016 - 2017 | Polaris | RZR® XP Turbo EPS |
| 2018 | Polaris | RZR® XP Turbo EPS Dynamix Edition |
| 2018 | Polaris | RZR® XP Turbo EPS Fox Edition |
| 2018 - 2020 | Polaris | RZR® XP Turbo S |
| 2019 - Current | Polaris | RZR® XP Turbo S Velocity |
| 2019 - 2020 | Polaris | RZR® XP 4 Turbo S |
| 2019 - Current | Polaris | RZR® XP 4 Turbo S Velocity |
| 2021 | Polaris | RZR® Turbo S |
| 2021 | Polaris | RZR® Turbo S 4 |
| 2021 | Polaris | RZR® Trail 900 Premium |


CB 7/23/2021